An LCPS- specific opportunity! LCPS employees, schedule your annual mammogram (screening covered by insurance, no order is required) for October 22, 2022, a special day designated just for Las Cruces Public Schools employees. Call to schedule your appointment at the Memorial HealthPlex. Call 575-521-5270 to reserve your time today! Appointments are available from 8 a.m.-1 p.m. Special gift and chance to win a raffle prize included! Learn more, call 575-521-5270 Or visit online at mmclc.org. See attached flyer for more information!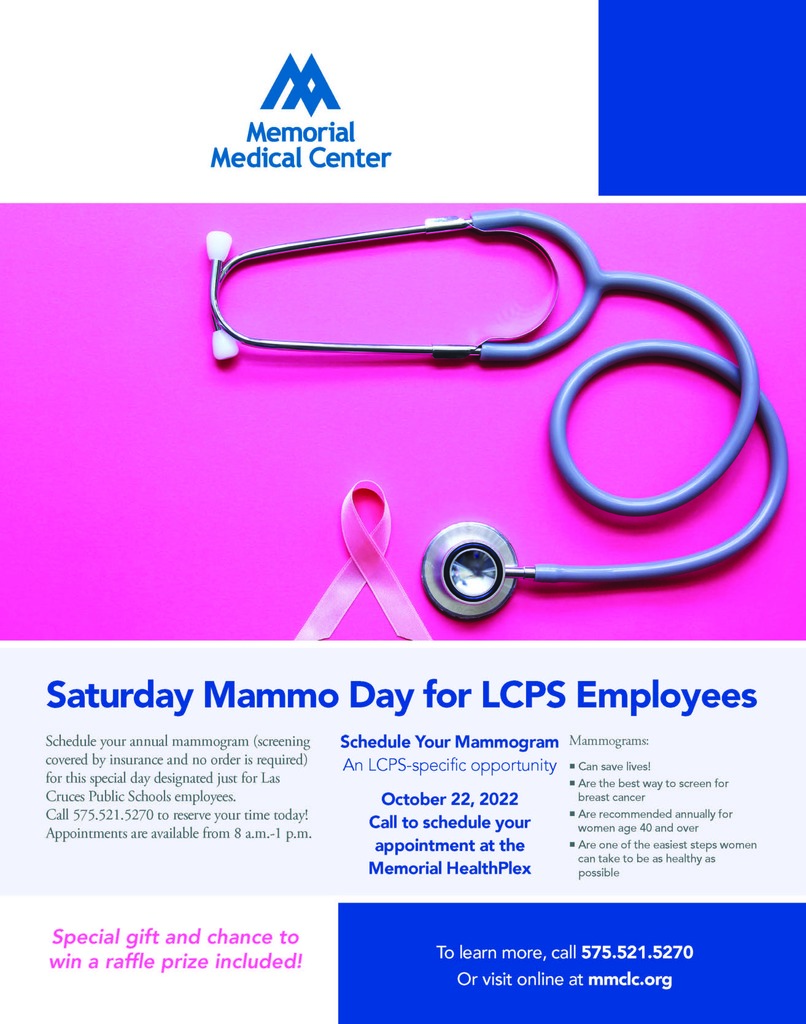 Tonight, Las Cruces High School will be taking on Alamogordo during Friday Night Football at the Field of Dreams. Kickoff is at 7pm. Student tickets are only $2. You don't want to miss it! Game coverage brought to you by LCPS.TV:
https://www.youtube.com/watch?v=gl9vpyVkV4o
.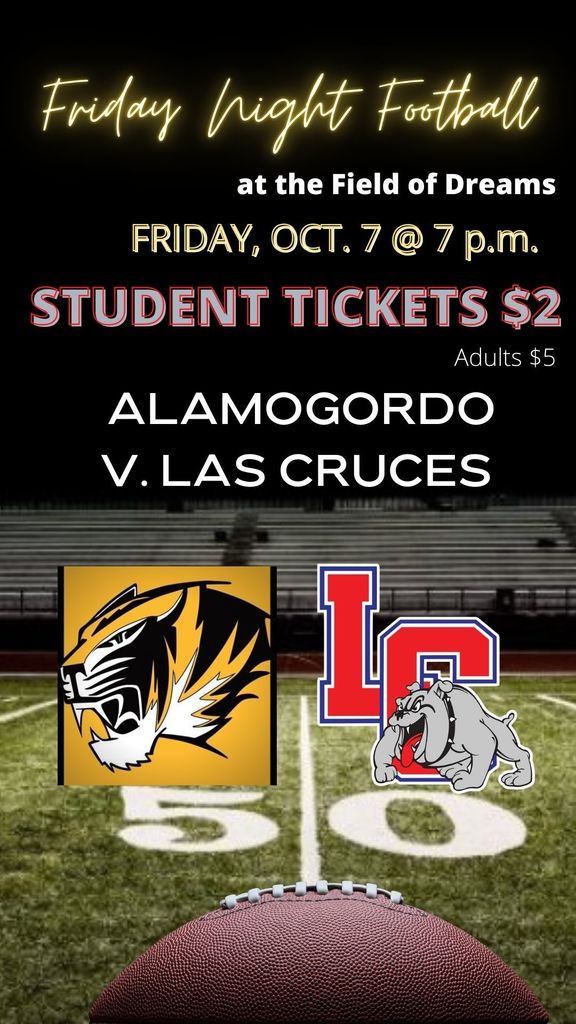 Las Cruces Public Schools will be hosting a series of virtual parent meetings to introduce a guest speaker who will be presenting to students about digital citizenship, social media safety, and the overall pros and cons related to the technology they use every day. Robert Hackenson, Jr. has been a leading youth speaker about online safety and continuously updates his presentations to include the latest trends in this subject area. He has delivered hundreds of presentations to elementary, middle and high school audiences across 33 states and has been a key speaker on college campuses during parents' weekends. Want to know more? Please check your email for additional information and a secure link.

Join STEAM Saturdays! Learn more about transportation through science, technology, engineering, art, and math every month at the Las Cruces Railroad Museum, located at 351 N. Mesilla St. STEAM Saturdays will be held on Oct. 22, Nov. 26, and Dec. 17 from 11am-12pm.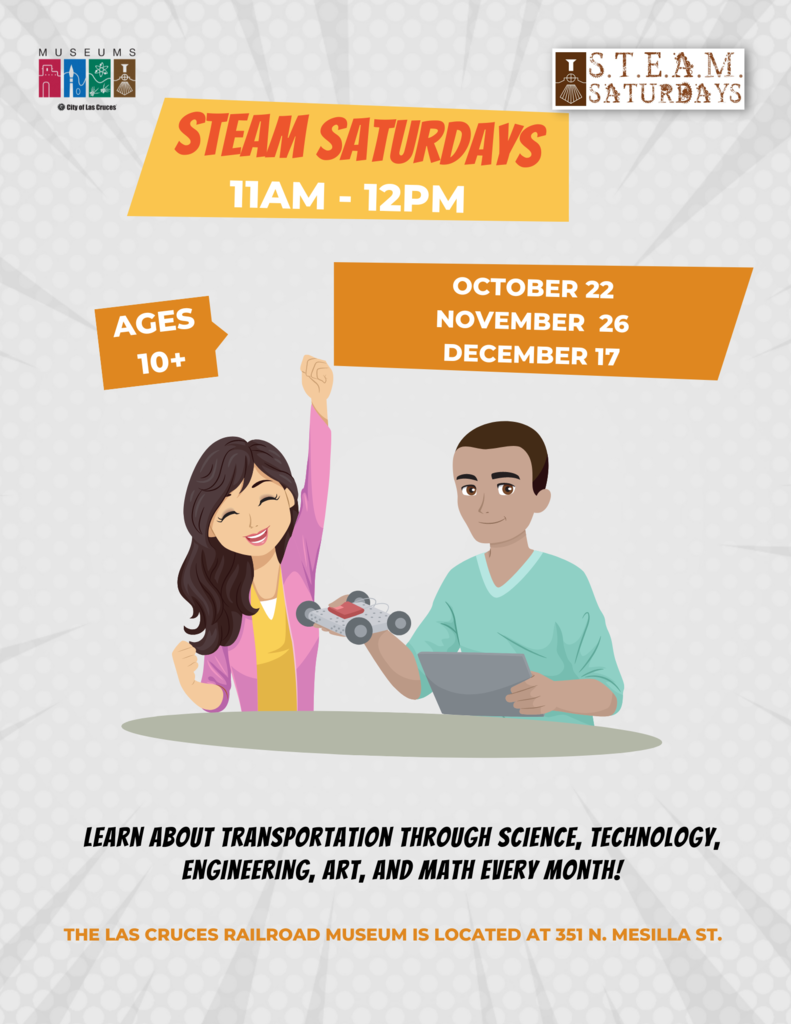 Come tour the Challenger space simulator while exploring a variety of aerospace careers through hands-on activities! The Open House will be on Oct. 11, from 6:00pm - 7:30pm in the TLC building located at 505 S. Main St Suite 400 in the Karen M. Trujillo Administration Complex.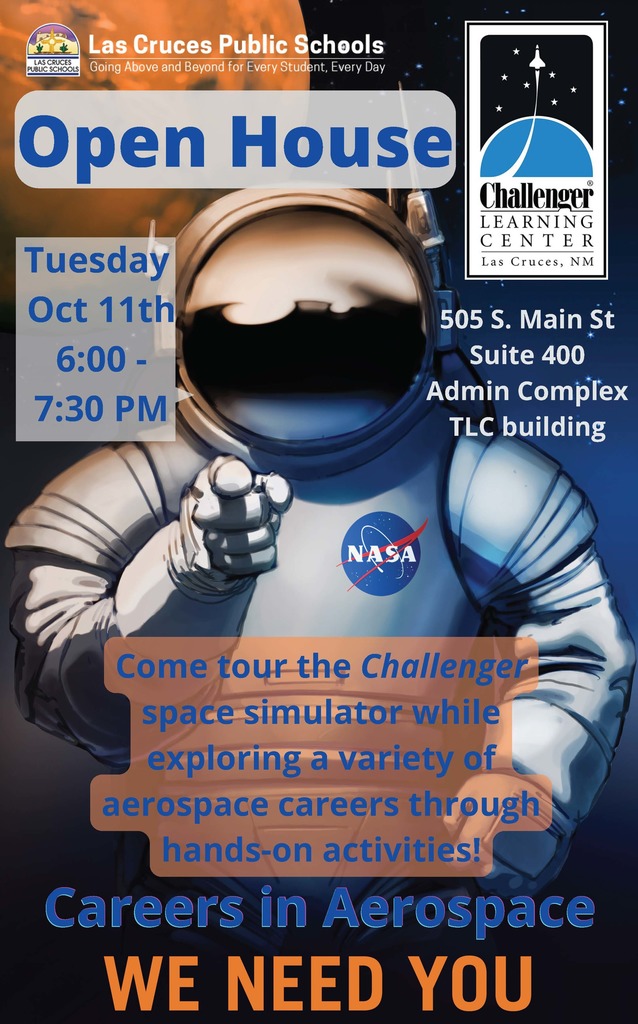 Free Flu Shots & Omicron Boosters for LCPS staff and families will be offered on Monday, October 10, through Thursday, October 13th, from 2:00pm-6:00p.m. at the LCPS Operations Center 505 S Main St, Las Cruces, NM 88001. Anyone who is aged 12 years or older and have completed their primary series qualifies to receive the new bivalent Omicron booster. Must be at least 2 months since last COVID vaccination. Se ofrecerán vacunas antigripales y refuerzos Omicron gratuitos para el personal y las familias de LCPS desde el lunes 10 de octubre hasta el jueves 13 de octubre en el Centro de Operaciones de LCPS 505 S Main St, Las Cruces, NM 88001. Cualquier persona mayor de 12 años y han completado su serie primaria califica para recibir el nuevo refuerzo bivalente Omicron. Deben haber pasado al menos 2 meses desde la última vacunación contra el COVID.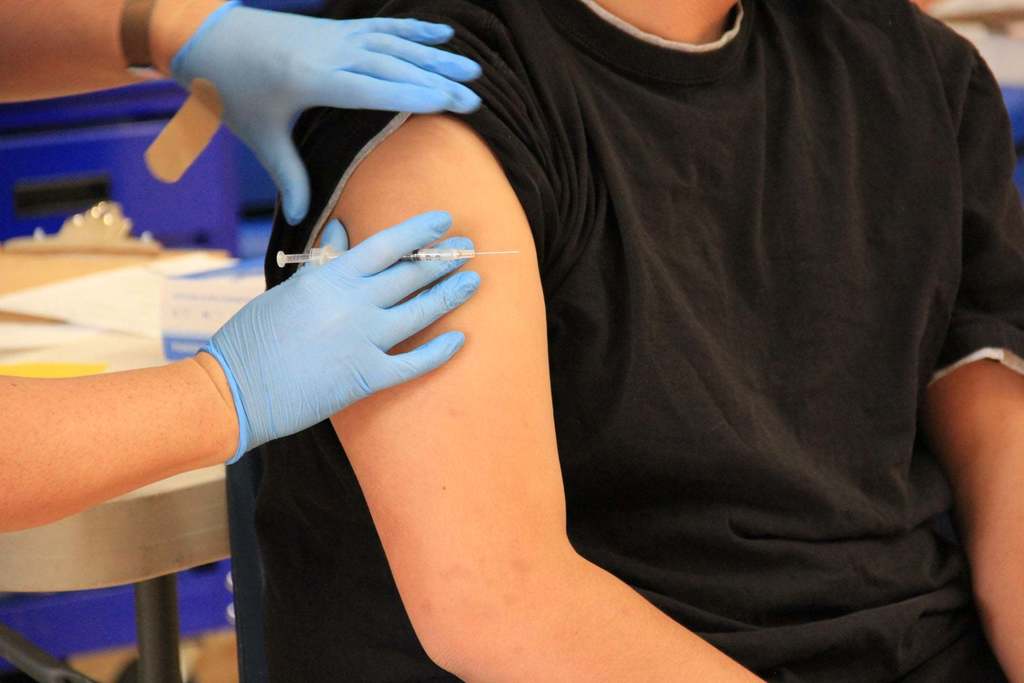 The National Weather Service in El Paso has issued a Flash Flood Warning for South Central Dona Ana County. Additionally LCPS Field of Dreams is currently in a shelter in place due to lightning within a 10-mile radius. Out of an abundance of caution for the safety of students, families, and our community, tonight's LCPS Marching Band Exhibition will be postponed, a future date will be determined and announced. Students were scheduled to begin arriving as early as 5:00 p.m. It was determined that a decision to postpone be made early as possible in order to mitigate any potential safety issues. A rescheduled date will be shared soon. Thank you for your patience and understanding.

Congratulations to Carlos Contreras, the LCPS Student Athlete of the Week from LCHS. Carlos plays soccer for the Bulldawgs and maintains a 3.7 GPA. His coach says he is dedicated, passionate, hardworking, and always eager to learn at practice.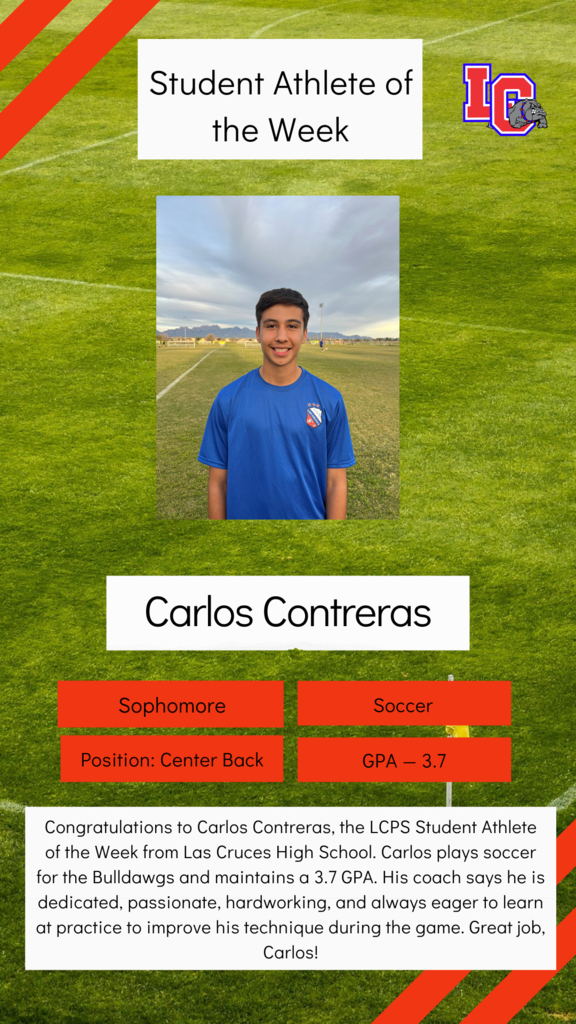 LCPS celebrates Raylene Carillo, the Student Athlete of the Week from LCHS. Raylene plays varsity soccer, averaging three goals per game. She maintains a 4.0 GPA. She is respectful, disciplined, and notes that her success is a team effort.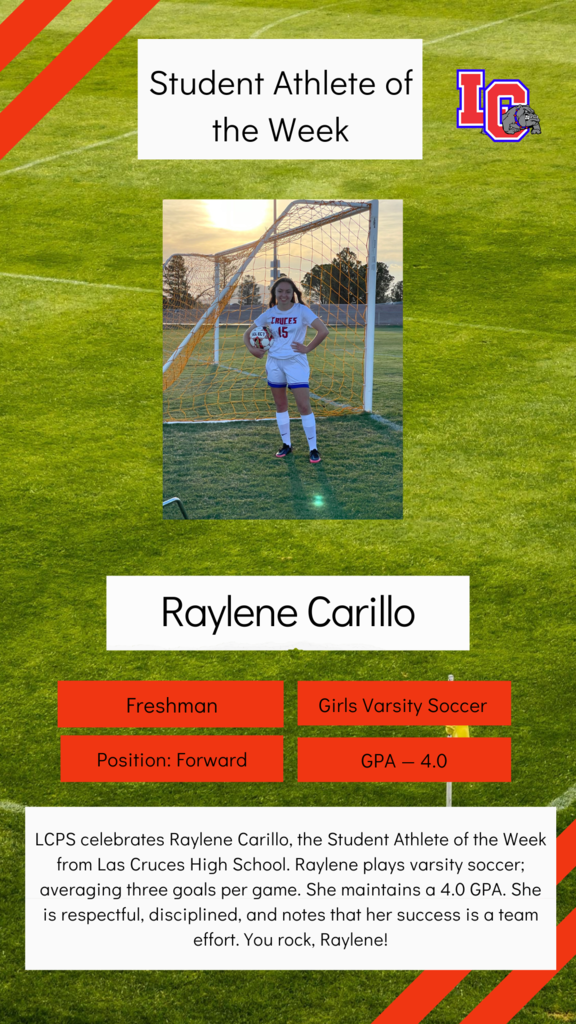 Come check out Las Cruces Public Schools' high school marching bands at this Saturday's LCPS Exhibition! Admission is FREE! The event starts at 7 p.m. with Mayfield High School at the LCPS Field of Dreams, 2300 Tashiro Dr. Centennial takes the field at 7:25, followed by LCHS at 8 p.m. and Organ Mountain at 8:25. A senior recognition will wrap up the event at 8:40.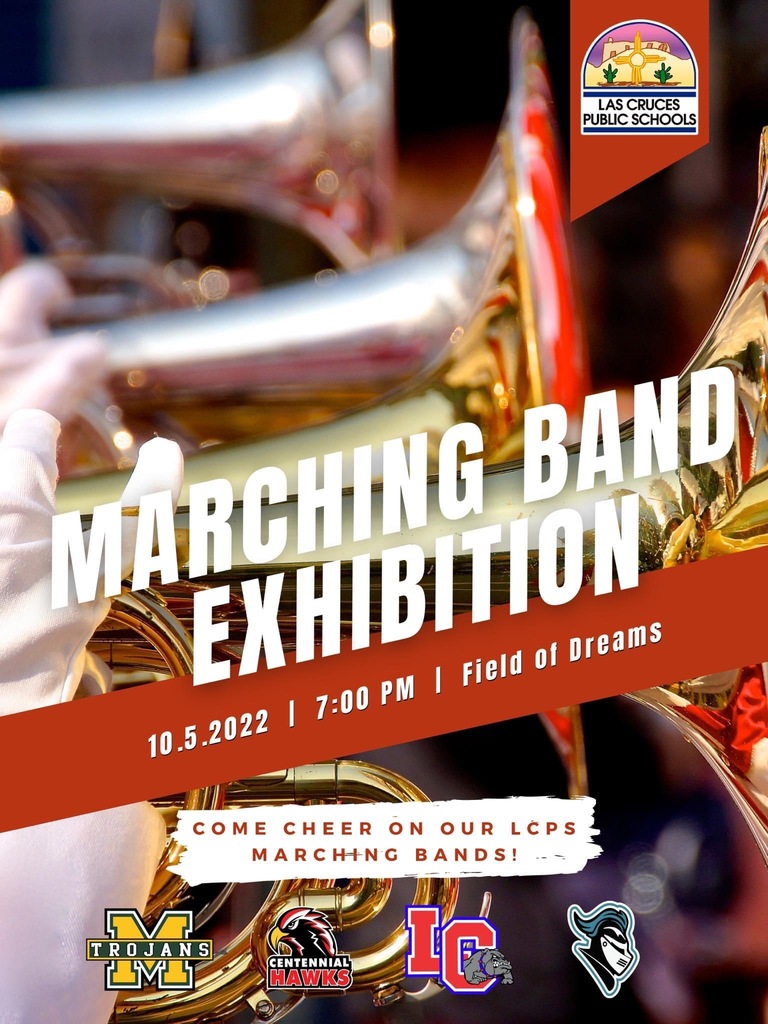 Congratulations to Andrea Lugo, an 8th grader at Mesa Middle School who won the Veterans Day Poster Contest! The poster advertises this year's Veterans Day Parade, which takes place on Saturday, Nov. 12 at 11 a.m. The parade will begin at Lohman and Main Street and travel north on Main to the roundabout.

Thank you to your generous community for supporting today's Community Schools food drive to benefit Casa de Peregrinos! Today, we made our world a better place with your help. We are LCPS!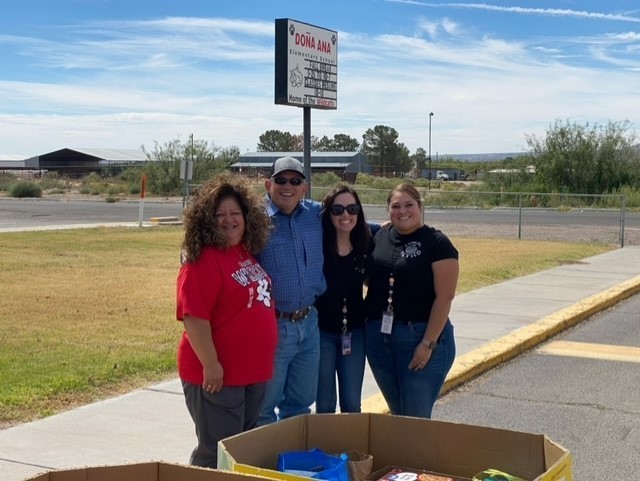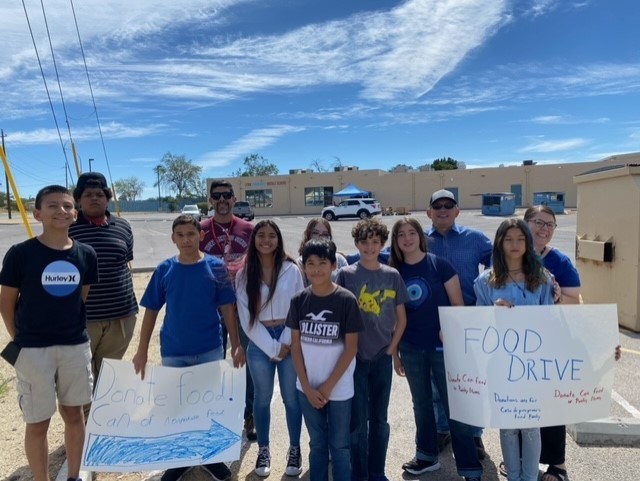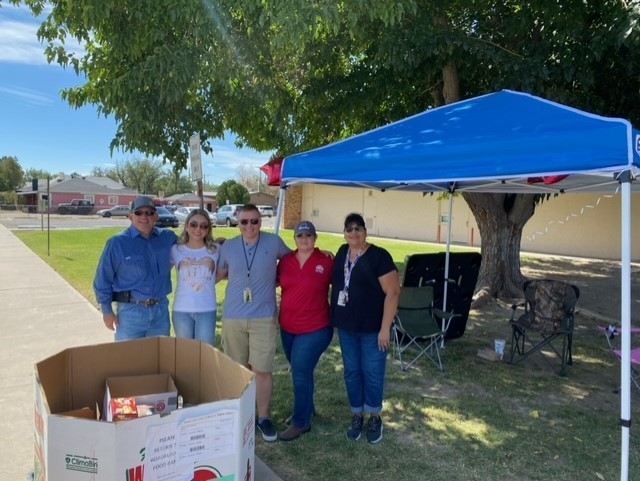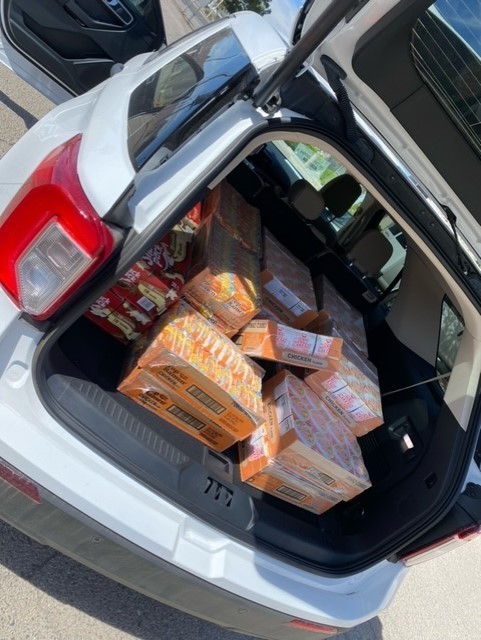 There's still time! Bring food donations to any LCPS community school until 1 pm today. Thank you for your support!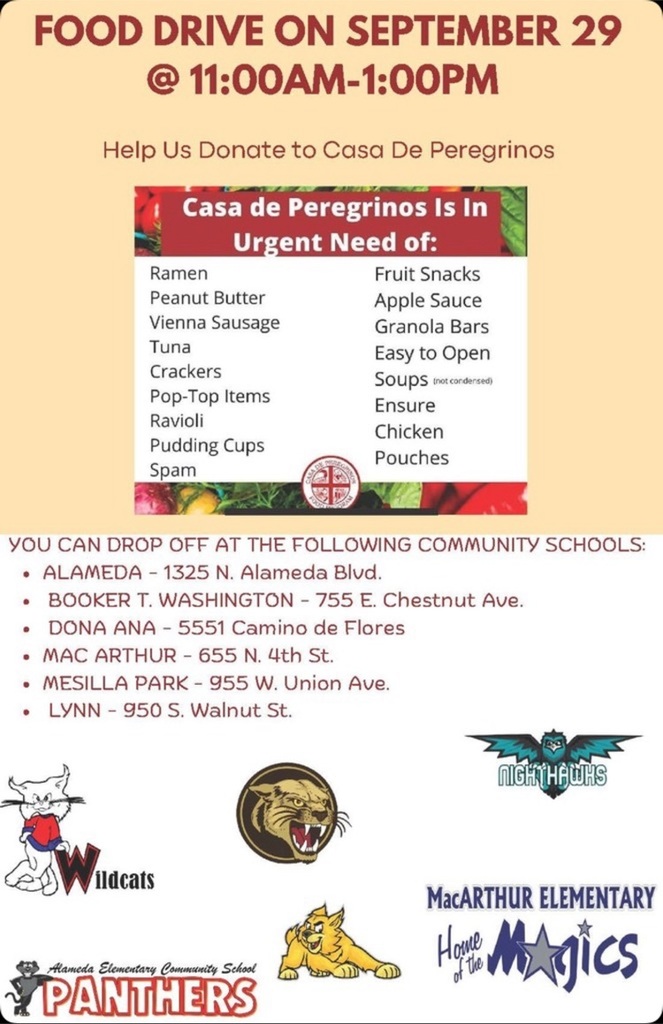 LCPS is proud to congratulate Charlotte Crawford, our Student Athlete of the Week from CHS. Charlotte plays varsity soccer. She is a member of the National Honor Society, maintaining a 4.0 GPA. Her coach says she's goal oriented, energetic, and hard working on and off the field.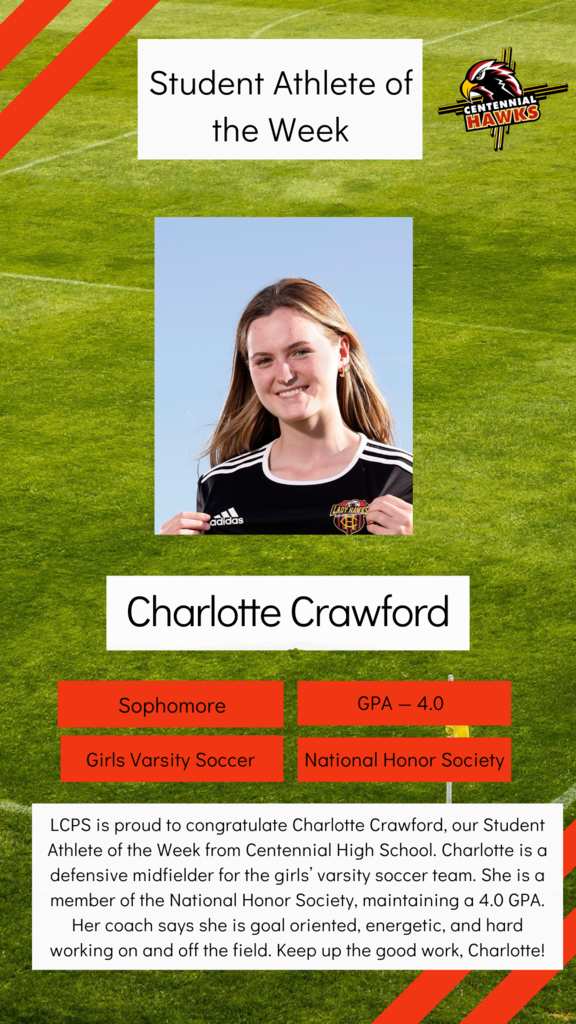 Eaven Rogers is the LCPS Student Athlete of the Week from CHS. Eaven runs track & field & is team captain for cross country. He is a dedicated, diligent, & resilient student athlete. Eaven enjoys woodwork, art, cooking and believes, "If you ain't first, you're last, Ricky Bobby."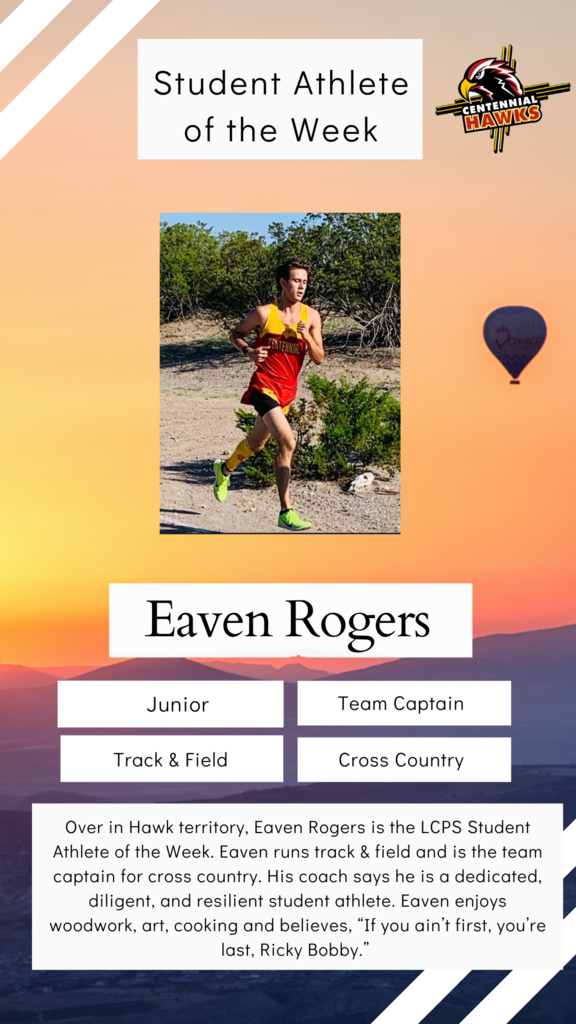 Help us donate to Casa De Peregrinos on September 29 from 11:00am - 1:00p.m at any of the Community School at LCPS. Please see the flyer for items needed. Thank you!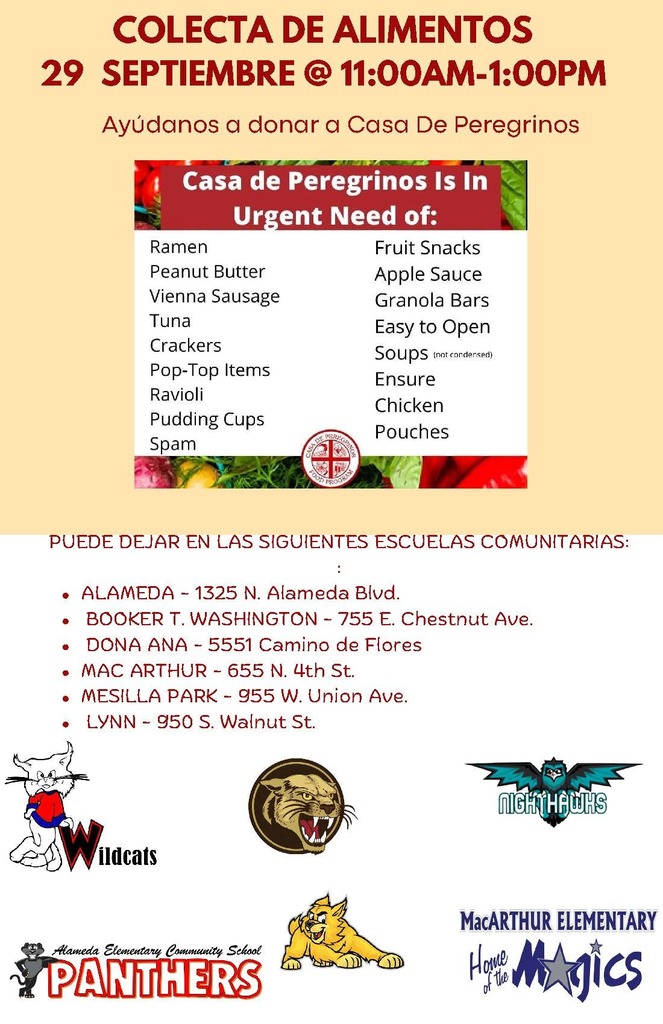 Las Cruces Public Schools is looking to hire an HR Specialist. If you are interested in joining our team, please apply before September 28, 2022.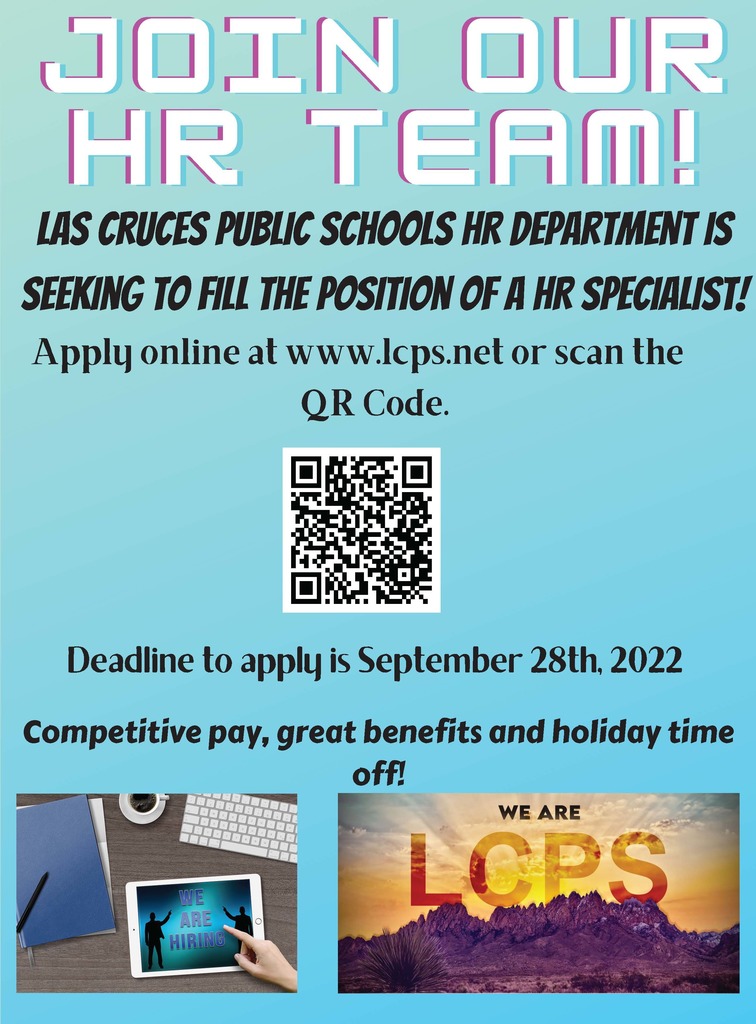 Tonight Organ Mountain will take on Centennial for Friday Night Football at the Field of Dreams. It'll be a showdown you won't want to miss. Kick off is at 7p.m., student tickets are on sale for $2. Game coverage will be brought to you by LCPS.TV:
https://m.youtube.com/watch?v=V4mkPR3qThY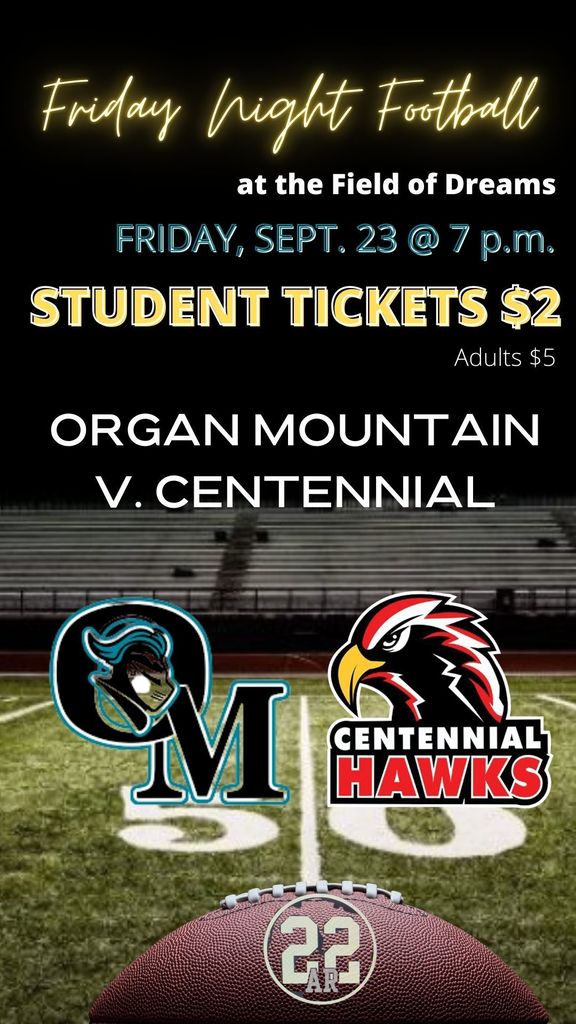 In honor of New Mexico Grown Month (September 12th – October 7th), the Nutrition Services Department served locally grown meals today to students and staff in every school. This means 100% of the items and ingredients that went into preparing the main meals came from our local farmers and ranchers across New Mexico. Check out these delicious tacos!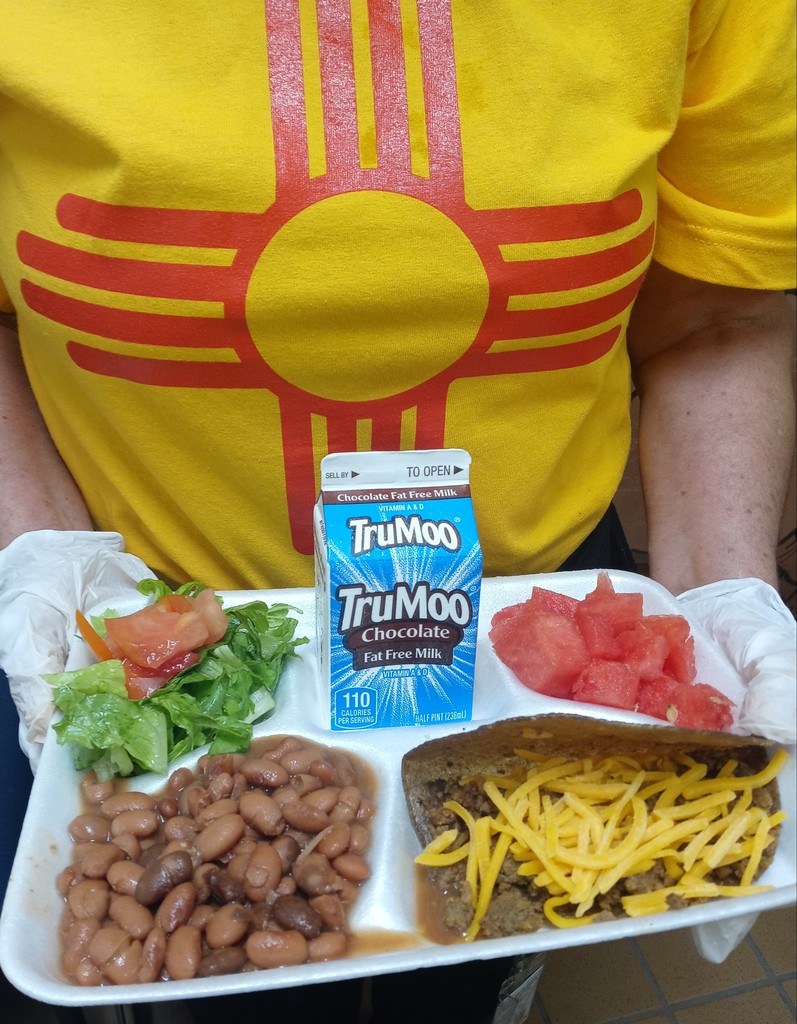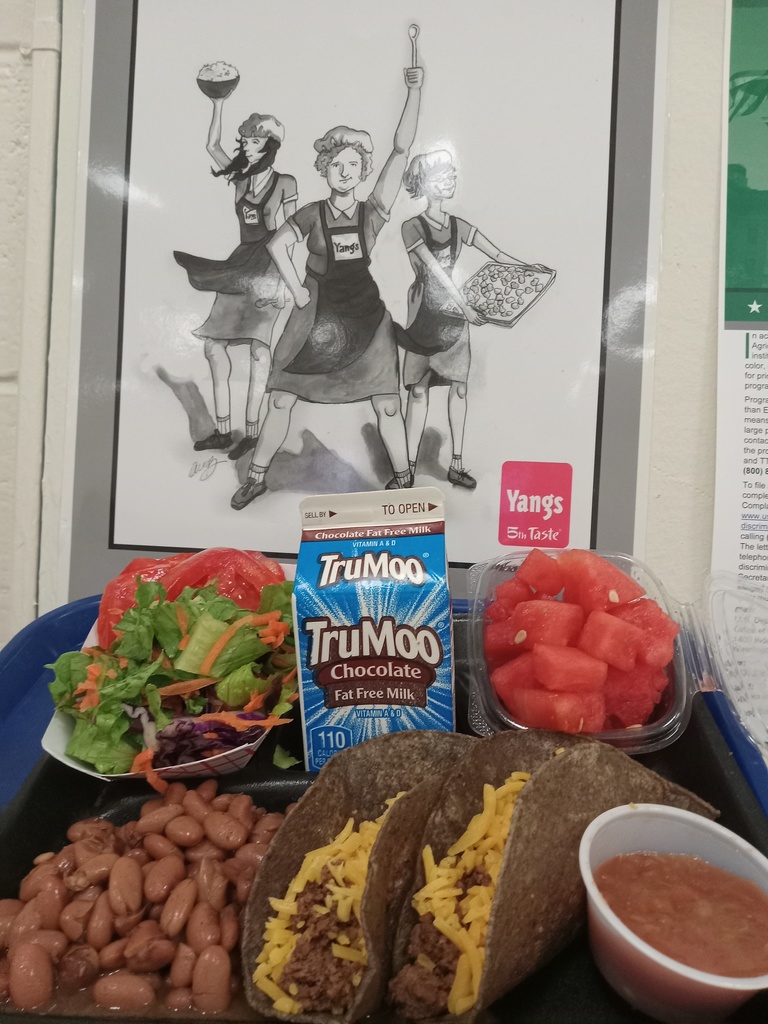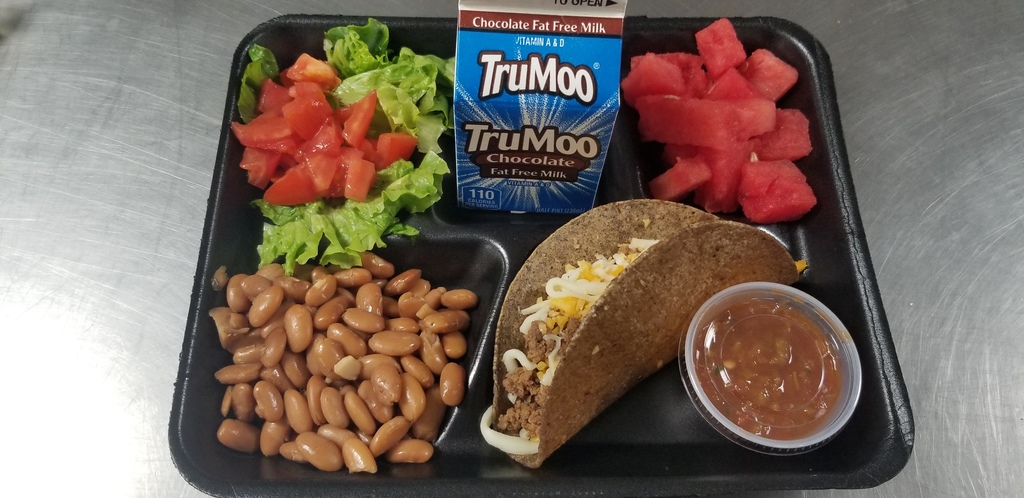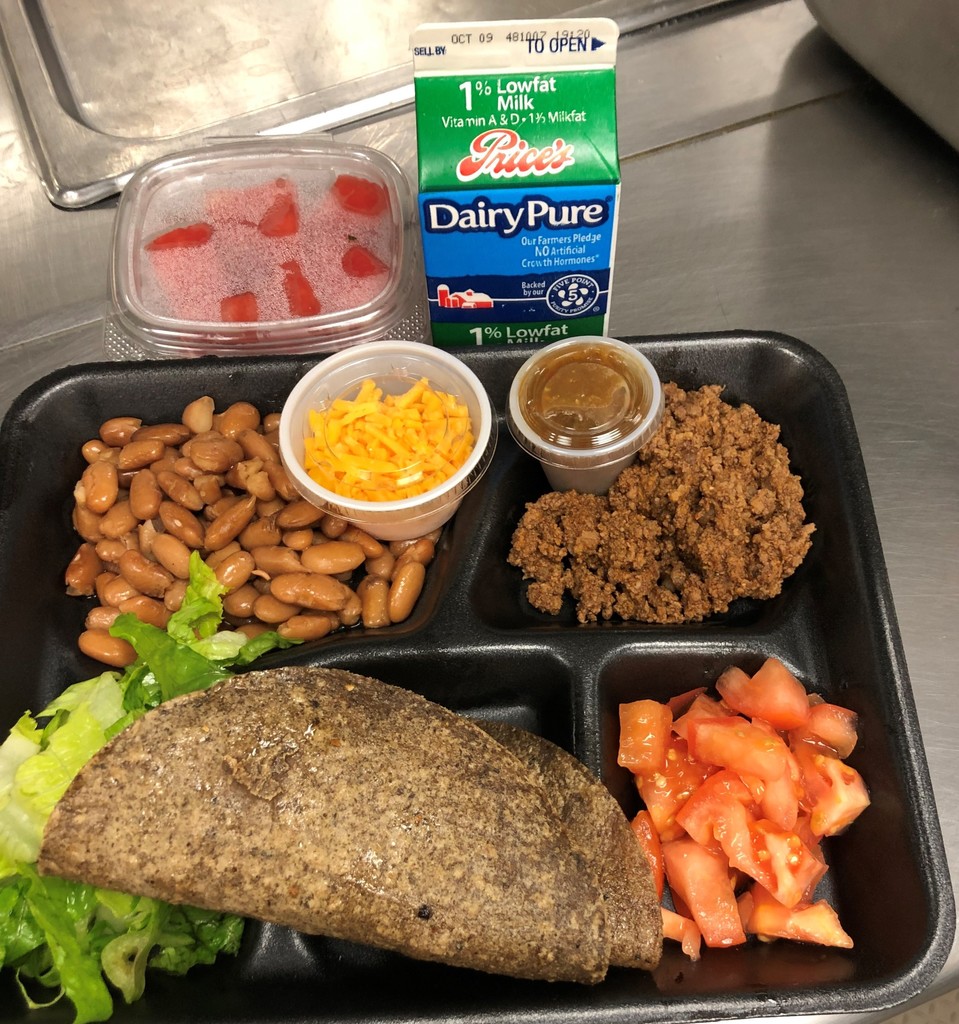 Las Cruces Public Schools would like to thank Dr. Maria Artiaga for dedicating thirty years serving the students and families of LCPS. This is her last week with the district as Dr. Artiaga will be retiring. We are grateful for her time with LCPS and will miss her dearly. We wish her continued success in all her future endeavors.