February is Black History Month! We are kicking the month off by recognizing the great Clara Belle Williams who lived, studied and worked in Las Cruces. Williams was the first African-American graduate of the New Mexico College of Agriculture and Mechanic Arts (now NMSU) in 1937. After graduation, Williams taught at the Booker T. Washington School in Las Cruces for twenty-seven years before retiring and moving to Chicago in 1951 to join her sons who had opened a medical clinic. A pictured plaque of Williams is on display on the Legacy Wall at the Las Cruces Public Schools Dr. Karen M. Trujillo Administration Complex. The plaque honors Clara Belle Williams, recognizing her establishment of Booker T. Washington Elementary School, calling her a pioneer in education.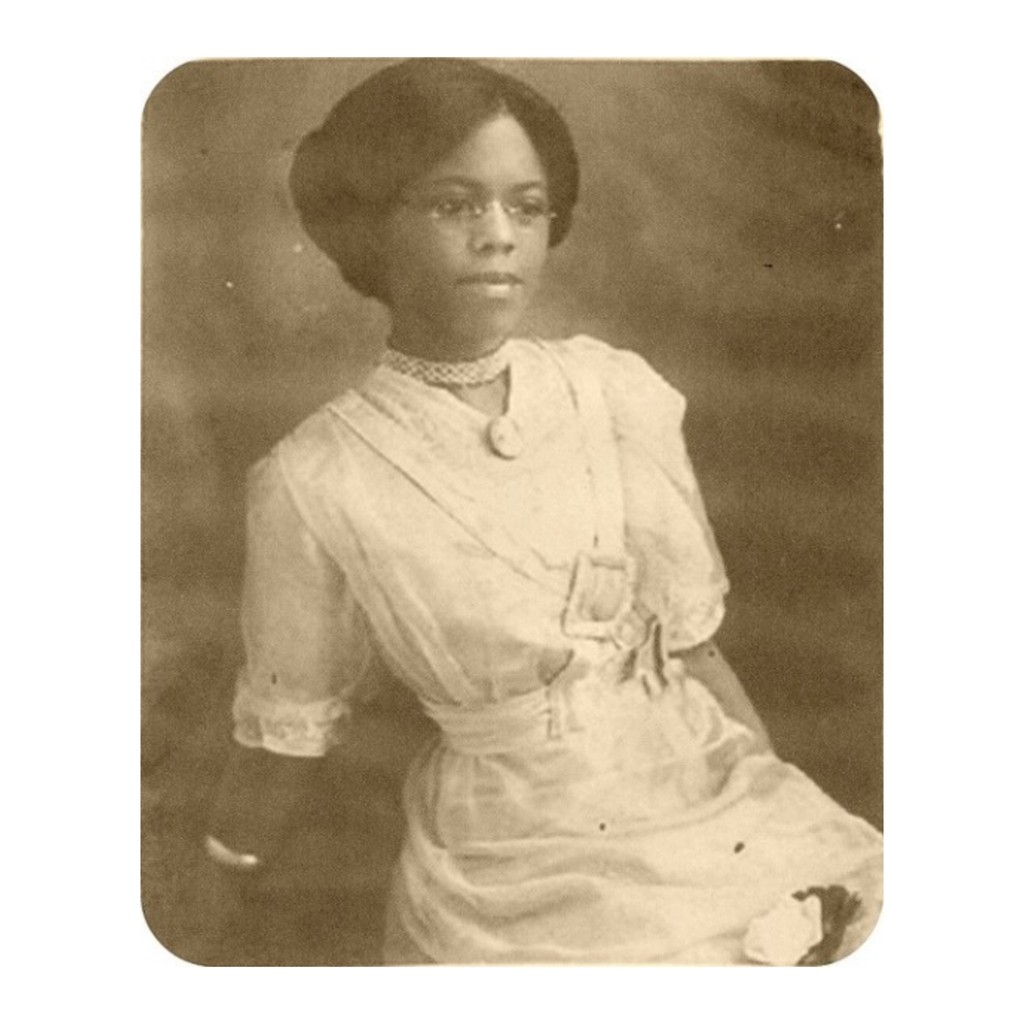 Attention: Icy Forecast Cancels In-Person School on Thursday - Athletics, activities and practices canceled. Click the link for more information:
https://www.lcps.net/article/645793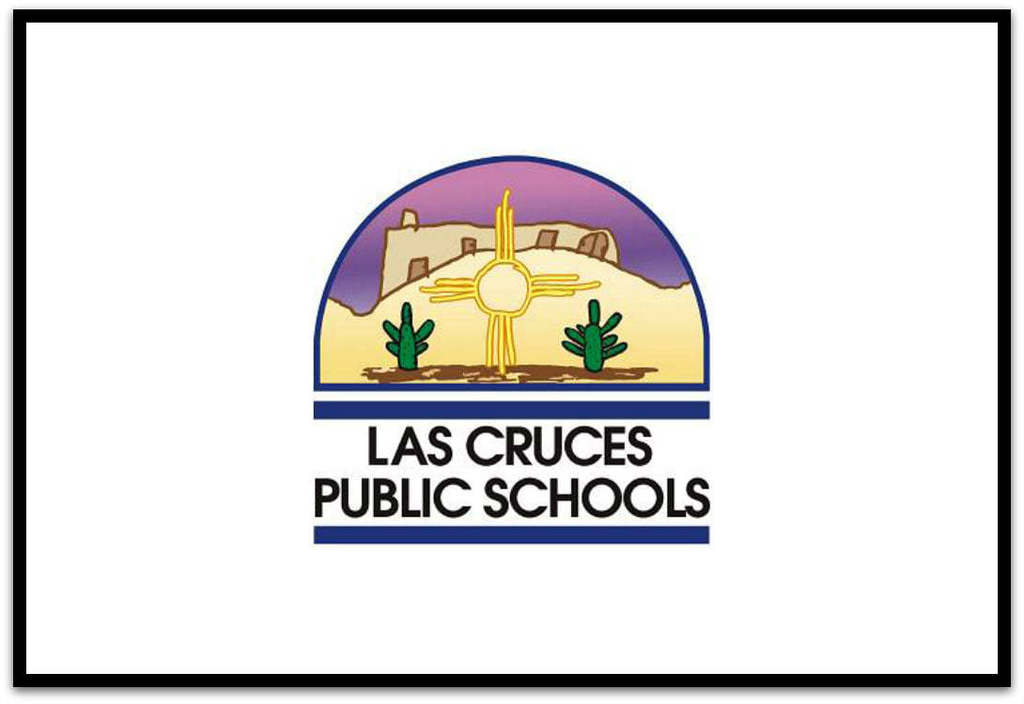 Congratulations to the Organ Mountain High School Cheerleading Squad for participating in the NMSU Spirit Competition January 22, where they competed in the Varsity Coed game day division. Each athlete has put in numerous hours of practice into their routine. OMHS came out with a first-place win in their division and was awarded grand champions in the cheer division. On January 27, the team was recognized via Zoom during the New Mexico Senate Floor for their hard work and dedication. Way to go, Knights!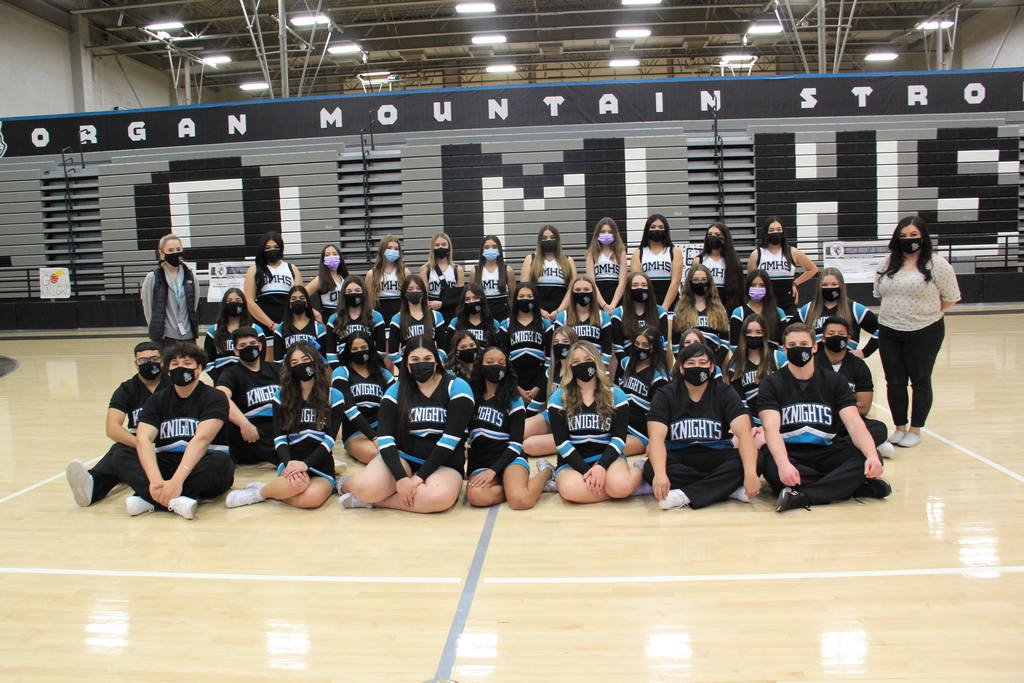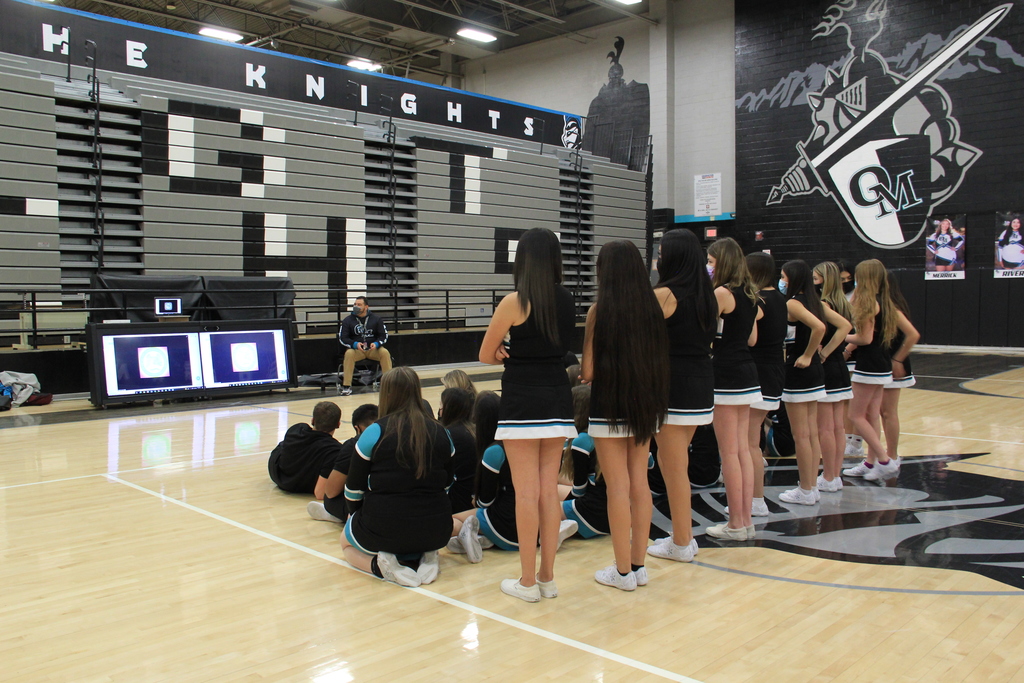 *Attention parents of 8th graders: The LCPS Freshman Next Step/Registration schedule for 2022-2023 is out! Please click the link for more information:
https://5il.co/14p0k
*As of 1/24/22, registration for all schools will be held in person

*Attention parents of 8th graders: The LCPS High School Open House Schedule is out. Please click the link below for more information. Schedule:
https://5il.co/14p0l
* As of 1/24/22, all Open Houses will be held in person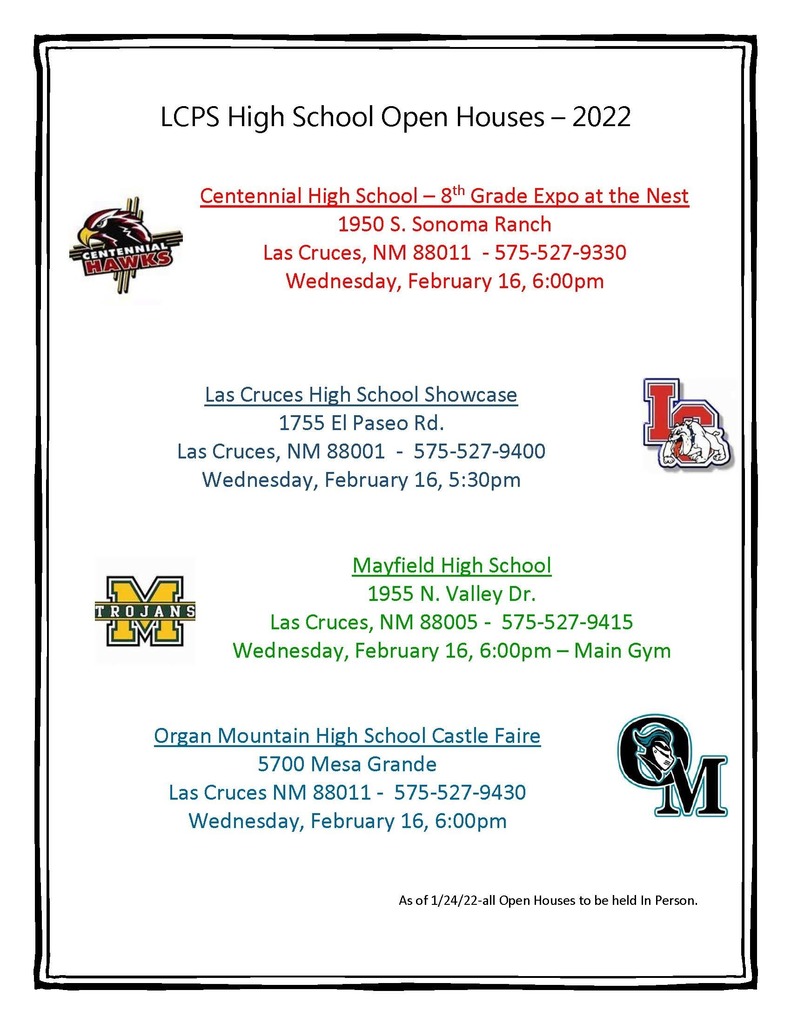 Calling all substitute teachers! LCPS has daily, long term and permanent sub positions available. Apply online, interview virtually. Contact Dr. Jeff Spaletta for more information, 575-636-8786, or send an email to
jspaletta@lcps.net

Parents of 5th grade students, Tonight's scheduled Open House at Lynn Middle School has been rescheduled and will be held virtually. Lynn is a magnet school, featuring Engineering, Multimedia and Visual Arts programs. If you are interested, the virtual Open House will be from 6:00 to 7:30 p.m. on Thursday, Jan. 27 using the following link:
https://lcps.zoom.us/j/87089019732
Open Houses at all other middle schools will also be held virtually next week. A schedule with corresponding links will be sent tomorrow.


VaxMobile has arrived to Dona Ana County. Getting a COVID-19 Vaccine is fast, effective, and in your community. VaxMobile will be here this weekend of January 14-16th at Gadsen Schools in Anthony, NM from 10am – 6pm Registration and more information on locations for vaccination can be found at
https://goodtimes.vaccinenm.org/stay-ahead-nm/
VaxMobile will also be offering its services on January 18th and 19th at the Butterfield Community Center from 10am – 6pm and again on January 20th and 21st at the Vado/Del Cerro Community Center from 10am – 6pm. Walk-In Appointments available!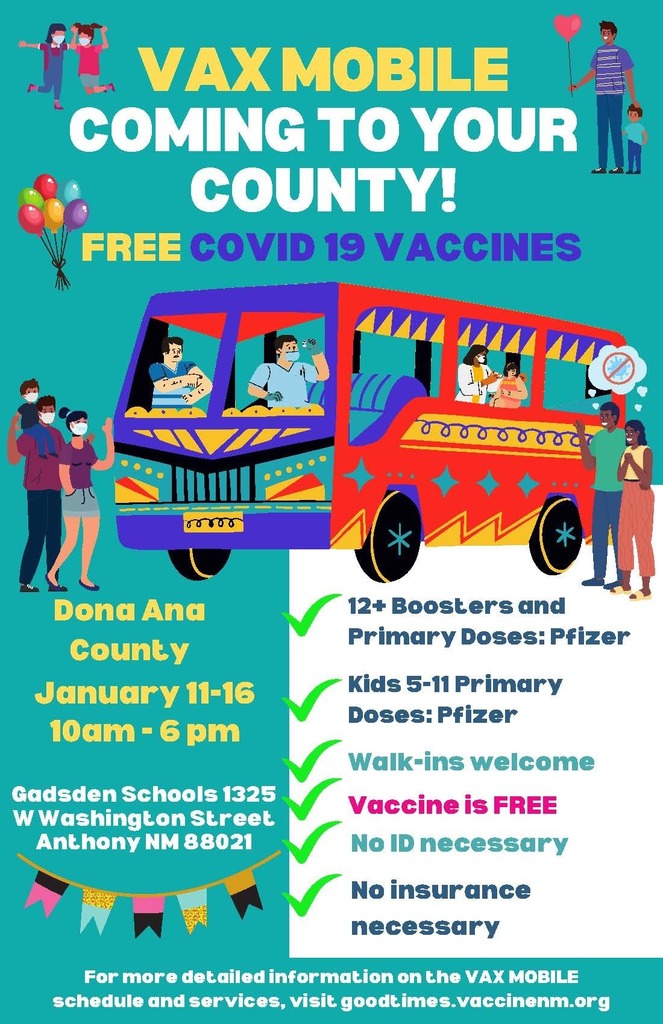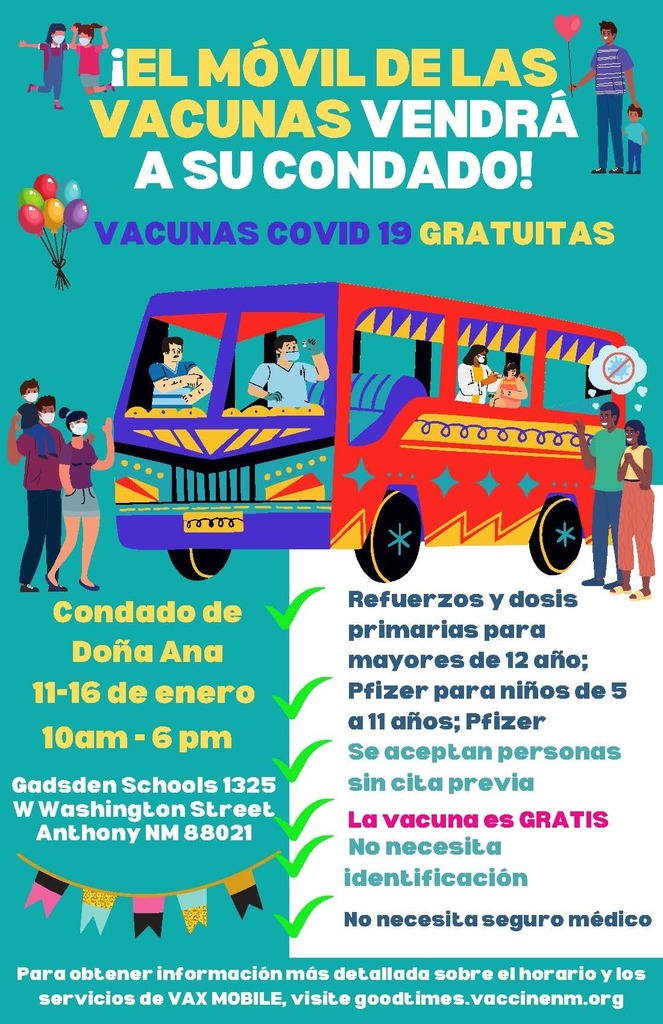 Virtual Learning Academy - Interested in becoming a fully online student for the 2022-2023 school year? We welcome you to join us on Tuesday, January 18, 2022 at 5:30 p.m. to learn more about what the Virtual Learning Academy at LCPS has to offer. Application deadline: January 21, 2022. Meeting link:
https://lcps.zoom.us/j/84783416459
VLA Application:
https://form.jotform.com/213004693882154

High School students at Las Cruces Public Schools compete in the NM Governor's STEM Challenge At the heart of the STEM Challenge is a mission to: Recognize achievement and develop potential in the diverse students of New Mexico Encourage participation from underrepresented populations in STEM including minorities and girls Help teachers incorporate and utilize the Next Generation Science Standards in classrooms

What's happening in our agriculture classes at Las Cruces High School? Students in Mr. Pereas's advanced Metal Fabrication are already back to work after the break! Students have created the 2022 Dona Ana County Fair Grand and Reserve Grand awards using a plasma cam. Las Cruces FFA is proud to sponsor these awards!

Update: Important updates on boosters, vaccination clinics and testing opportunities According to updated guidance from the Public Education Department, staff are not considered fully vaccinated unless you receive your booster by Jan. 17, 2022 - or are less than six months from your second dose (or a single dose of the Johnson & Johnson vaccine). Currently, employees who are not fully vaccinated will be required to surveillance test once a week beginning Jan. 17. To help get everyone in compliance, LCPS will host a vaccination clinic with assistance from the Office of Emergency Management and the NM Department of Health on Jan. 7, 2022 at the former DMV location adjacent to the Dr. Karen M. Trujillo Administration Complex from 10 am. to 2 p.m. To reserve a spot, please use the DOH portal,
www.vaccinenm.org
, and use the event code LCPS2022. If you would like to get your vaccine sooner, PMG will be hosting Covid vaccine clinics with the Pfizer vaccine on Mondays at the New Mexico Farm and Ranch Heritage Museum, 4100 Dripping Springs Road, from 10 a.m. to 4 p.m. and on Wednesdays from 10 a.m. to 4 p.m. at the Doña Ana County Government Center on Motel Boulevard. Registration is available on the DOH portal:
www.vaccinenm.org
. Over the winter break, LCPS will continue to host three testing sites for students and staff. Those sites will be at Las Cruces High School, Mayfield High School and Organ Mountain High School Monday through Friday from 8 a.m. to 5 p.m. except for Dec. 24. De acuerdo con las pautas actualizadas del Departamento de Educación Pública, el personal no se considera completamente vacunado a menos que reciba su refuerzo antes del 17 de enero de 2022, o estén a menos de seis meses de su segunda dosis (o una dosis única de la vacuna Johnson & Johnson). Actualmente, los empleados que no estén completamente vacunados deberán someterse a una prueba de vigilancia una vez a la semana a partir del 17 de enero. Para ayudar a que todos cumplan, LCPS albergará una clínica de vacunación con la ayuda de la Oficina de Manejo de Emergencias y el Departamento de Salud de Nuevo México el 7 de enero de 2022 en la antigua ubicación del DMV adyacente al Complejo de Administración Dr. Karen M. Trujillo de 10 am. a las 2 p.m. Para reservar un lugar, use el portal del DOH,
www.vaccinenm.org
, y use el código de evento LCPS2022. Durante las vacaciones de invierno, LCPS continuará albergando tres sitios de pruebas para los estudiantes y el personal. Esos sitios estarán en Las Cruces High School, Mayfield High School y Organ Mountain High School de lunes a viernes de 8 a.m. a 5 p.m. excepto el 24 de diciembre.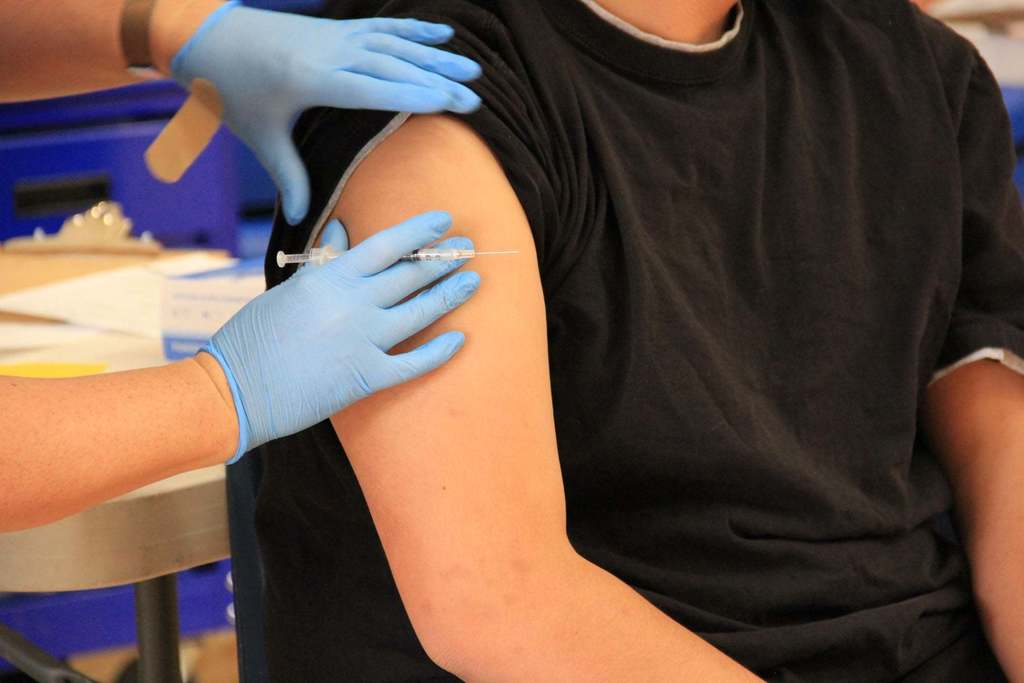 COVID-19 Test Sites at LCPS The following locations are available for Test to Stay, surveillance and symptomatic testing for students and staff: Las Cruces High School 7 a.m. – 6 p.m. M-F / de lunes a viernes B-Wing Lot on East Side of Campus En el lote del ala B en el lado este del campus Organ Mountain High School 7 a.m. – 6 p.m. M-F/ de lunes a viernes Parking Lot on East Side of Campus/ En el estacionamiento en el lado este del campus Mayfield High School 7 a.m. – 6 p.m. M-F/ de lunes a viernes Staff parking lot, east side/En el estacionamiento del personal, lado este Sierra Middle School 9:30 a.m. - 3 p.m. M-F/ de lunes a viernes West side of campus in parking lot next to gym/ En el lado oeste del campus en el estacionamiento junto al gimnasio Mesa Middle School 9:30 a.m. - 3 p.m. M-F/ de lunes a viernes Front parking lot/ En el estacionamiento de enfrente Conlee Elementary 9 a.m. - 1 p.m. M-F/ de lunes a viernes North parking lot off Montana/ Estacionamiento norte el lado de Montana Tombaugh Elementary 9 a.m. - 1 p.m. M-F/ de lunes a viernes Front parking lot/ En el estacionamiento de enfrente Alameda Elementary 9 a.m. - 1 p.m. M-F/ de lunes a viernes South parking lot/ En el estacionamiento sur


Thank you families for your patience while we worked on getting your children home with food for the winter break. Food will still be available for students who were absent yesterday and can be picked up today at our 11:00 a.m. dismissal. Otherwise, it will be sent home on the bus with the student.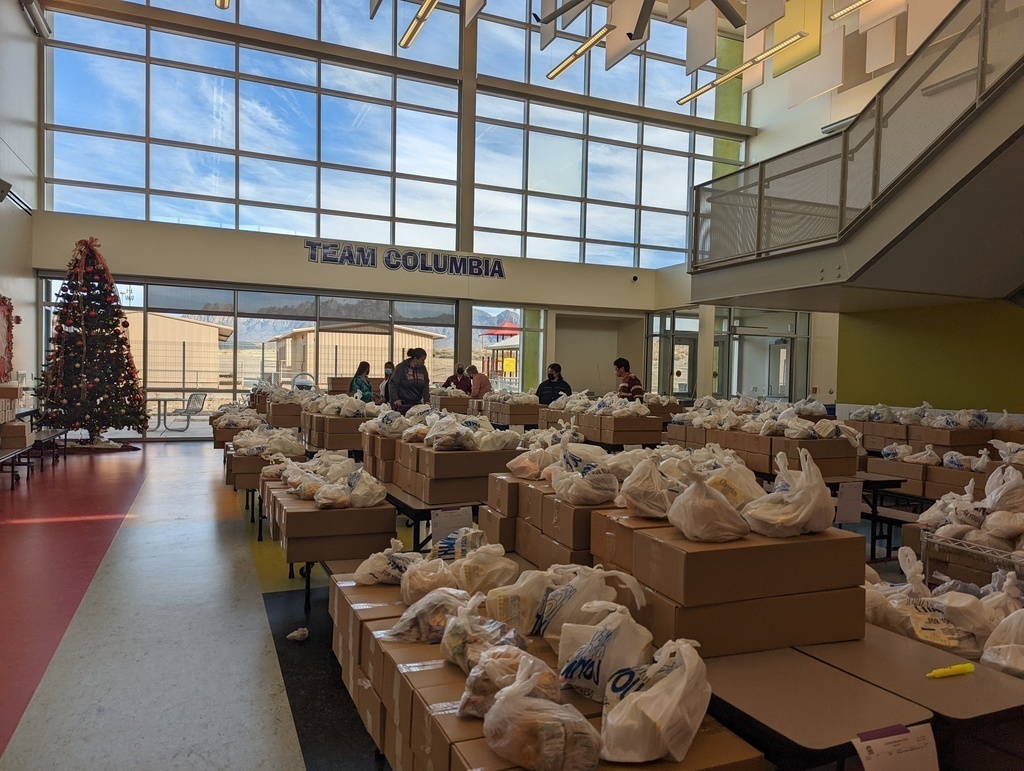 Thank you to Highland Elementary School for celebrating your spirit week with Jardin and bringing us socks to keep our children warm! 🧦❤️#helpingchildrenandfamiliesflourish #warmandcozy #warmhearts #community #ignitinghope #empowerment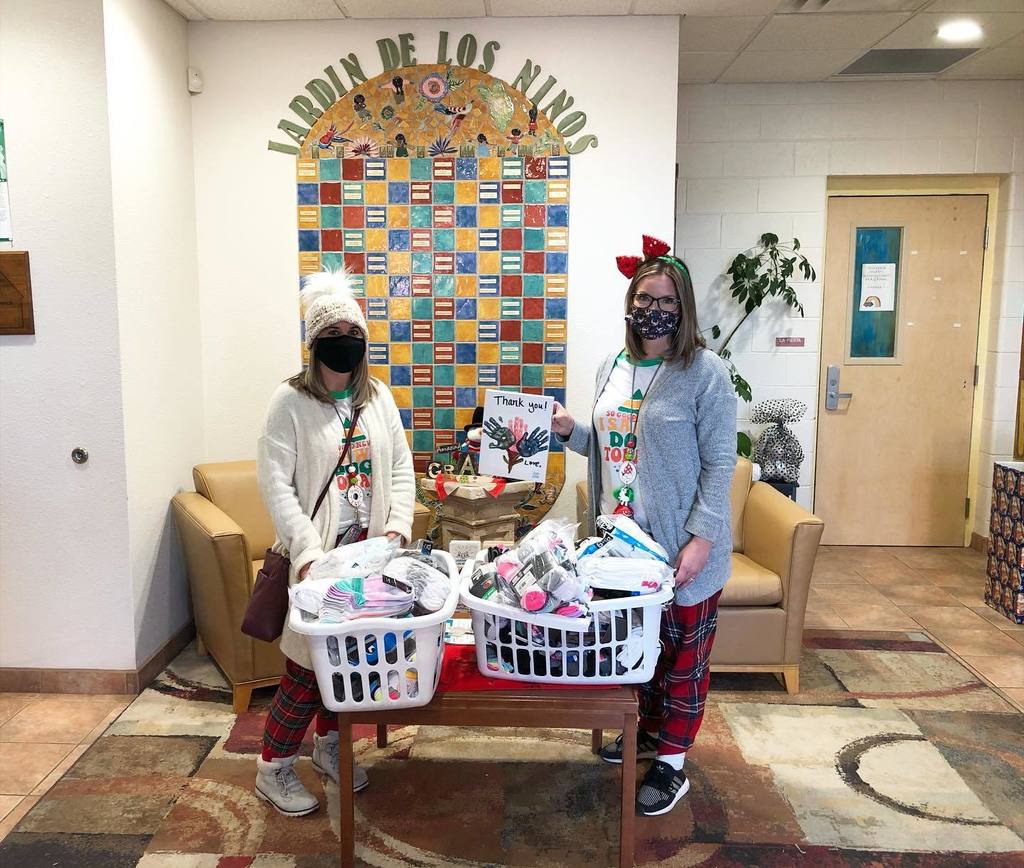 Dear LCPS Families, Las Cruces Public Schools has become aware of a troubling post that has been shared widely this week on the social media platform TikTok. The post refers to a threat to school safety "for every school in the USA, even elementary," on Friday, December 17. The post appears to be part of a national TikTok trend and did not originate in our school district. We have heard reports from other districts that the same post is circulating in their schools. While we do not believe the threat to be credible, we are closely monitoring the situation and taking it seriously. Additionally, the district has been in contact with the Las Cruces Police Department regarding the post. We may have an increased police presence in our buildings on Friday as an added precaution. This situation serves as a good example of why it is important to avoid sharing posts online that refer to school safety threats. Even if they are not credible threats, they can cause a great deal of stress and anxiety for our students, families, and staff. We ask our families to monitor their children's social media activity and speak with them about proper behavior online. If you or your child become aware of any potential threat posted to social media or anywhere else, please notify a school staff member or trusted adult right away. As always, thank you for your partnership as we work to ensure a safe, secure, and positive learning environment for our students. Sincerely, LCPS Administration Estimadas familias de LCPS: Las Escuelas Públicas de Las Cruces (LCPS, por sus siglas en inglés) se ha enterado de una publicación preocupante que se ha compartido esta semana ampliamente en la plataforma de redes sociales TikTok. La publicación se refiere a una amenaza a la seguridad escolar el viernes 17 de diciembre "para todas las escuelas en los Estados Unidos, incluyendo la primaria". La publicación parece ser parte de una tendencia nacional de TikTok y no se originó en nuestro distrito escolar. Hemos escuchado informes de otros distritos de que el mismo correo está circulando en sus escuelas. Consideramos que la amenaza no es creíble, sin embargo estamos monitoreando de cerca la situación y tomándola en serio. Además, el distrito se ha puesto en contacto con el Departamento de Policía de Las Cruces con respecto a la publicación. Es posible que tengamos una mayor presencia de la policía en nuestros edificios el viernes como precaución adicional. Esta situación sirve como un buen ejemplo de por qué es importante evitar compartir publicaciones en línea que se refieran a amenazas a la seguridad escolar. Incluso si no son amenazas creíbles, pueden causar mucho estrés y ansiedad a nuestros estudiantes, familias y personal. Pedimos a nuestras familias que controlen la actividad de sus hijos en las redes sociales y hablen con ellos sobre el comportamiento adecuado en línea. Si usted o su hijo se dan cuenta de alguna posible amenaza publicada en las redes sociales o en cualquier otro lugar, notifique a un miembro del personal de la escuela o un adulto de confianza de inmediato. Como siempre, gracias por su colaboración mientras trabajamos para garantizar un entorno de aprendizaje seguro y positivo para nuestros estudiantes. Atentamente, Administración LCPS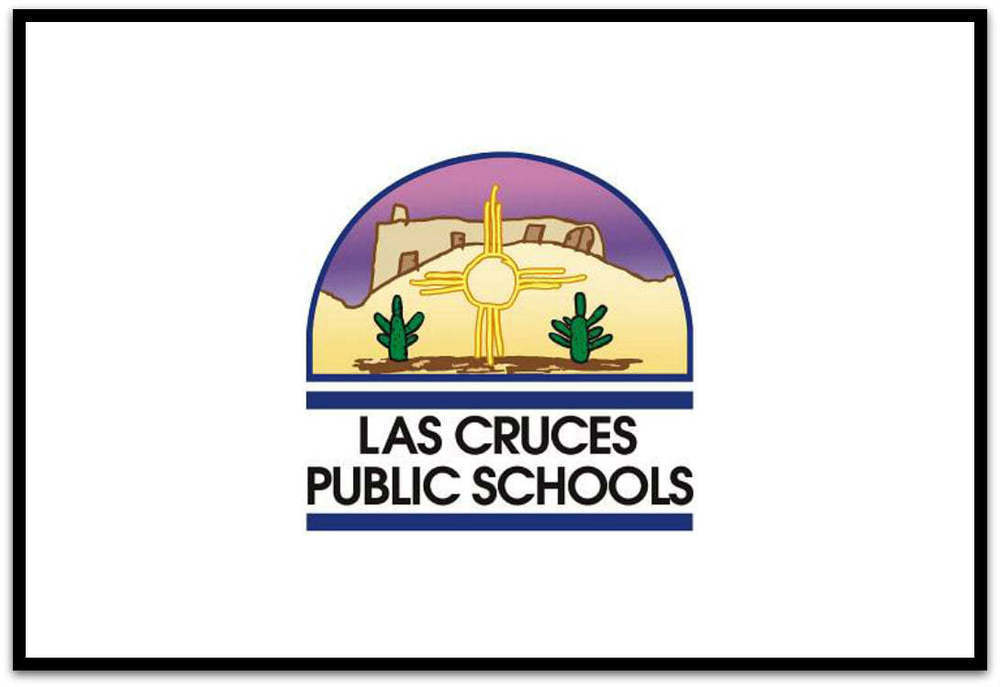 It's everything LCPS, in your pocket. Las Cruces School District is launching a new mobile app that helps students, parents, and community members know what is happening on campus, right from their phones. We know that families are using smartphones as a primary means to communicate. That's why we've created an app that is custom-built for mobile. On the app, you can find documents, contact information for staff, and event information. You can download the app for free from the Apple App Store or Google Play.

Thank you, Señora Maria Flores for your advocacy and lifetime support serving the students of Las Cruces Public Schools. You served your community with honor and distinction as both an educator and board member. Thank you!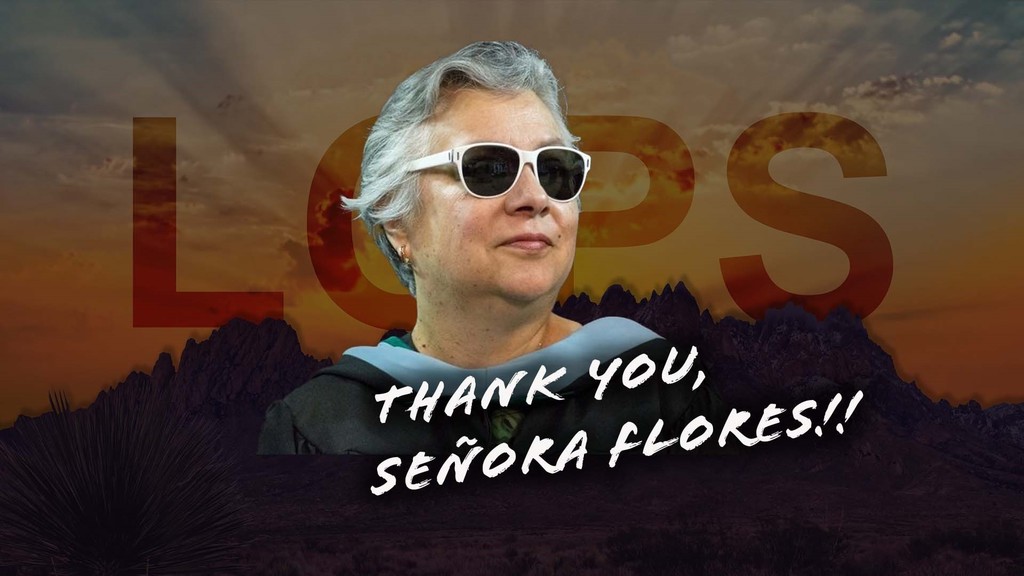 Congratulations to our Governor's STEM challenge team for their sponsorship from Boeing. The students presented their project "We Speak for the Knees". These students created a prophylactic knee brace that detects undesirable knee movements to aid in the prevention of meniscus tears. Lauren Owens Wendell Oderkirk Evan Kleczka Kai Baird-Hewus Mrs. Beth Rewalt