Ngage NM and the Success Partnership have partnered with the City of Las Cruces to conduct a feasibility study survey regarding a brick-and-mortar children's museum in Las Cruces. This survey is a crucial step in a children's museum becoming a reality for our community.
Please scan the QR code or click the link to take the survey: https://docs.google.com/forms/...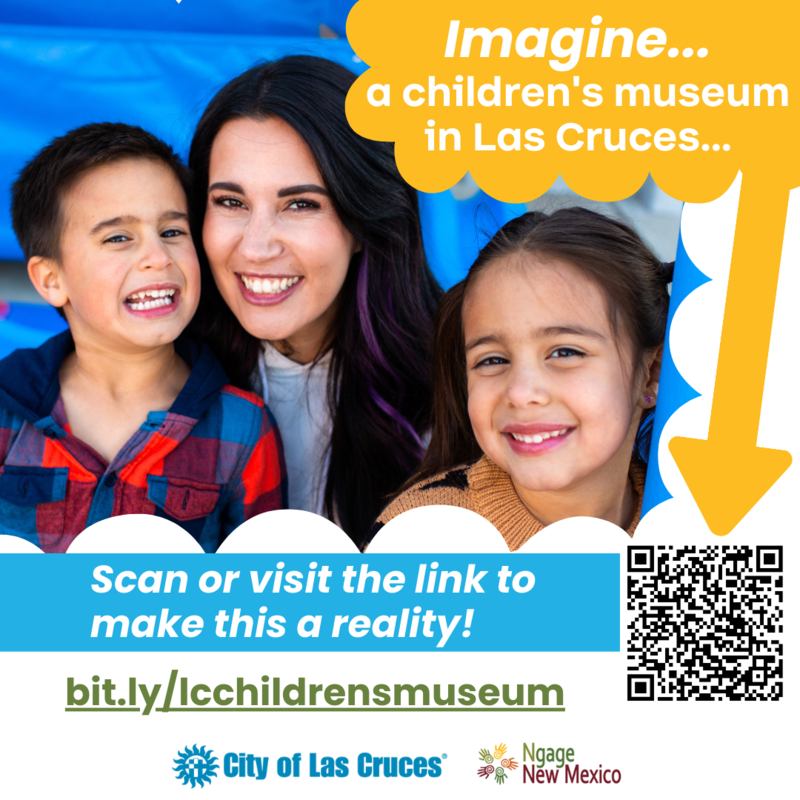 Children's museums are places for hands-on learning and discovery. They encourage play-based learning and exploration, nurture curiosity and help develop basic skills and confidence.
Due to many requests for a children's museum in Las Cruces, the City of Las Cruces, in partnership with Ngage New Mexico, is now hoping to develop a children's museum located within the City.
No location has yet been chosen, and no design has yet been developed. The project is now in a preliminary, or conceptual, stage.
To get the project moving forward, The City is now teaming with the Albuquerque-based museum planning consultants, M. Goodwin Museum Planning, Inc. (MGMP) to develop an outlook for what sorts of services and experiences the new museum should offer, and what amenities might be incorporated within the museum experience.
Can you please help us by telling us about your family's interests and preferences?
All of this information will remain confidential, and it will be used to help us to determine the future museum's focus and priorities.
Take the survey: https://docs.google.com/forms/...
---
¡Esperamos sus comentarios para un Museo de los Niños en Las Cruces!
Ngage NM y Success Partnership se han asociado con la ciudad de Las Cruces para realizar una encuesta de estudio de viabilidad sobre un museo para niños de ladrillo y mortero en Las Cruces. Esta encuesta es un paso crucial para que un museo para niños se convierta en una realidad para nuestra comunidad.
Escanee el código QR o haga clic en el enlace para realizar la encuesta: https://docs.google.com/forms/...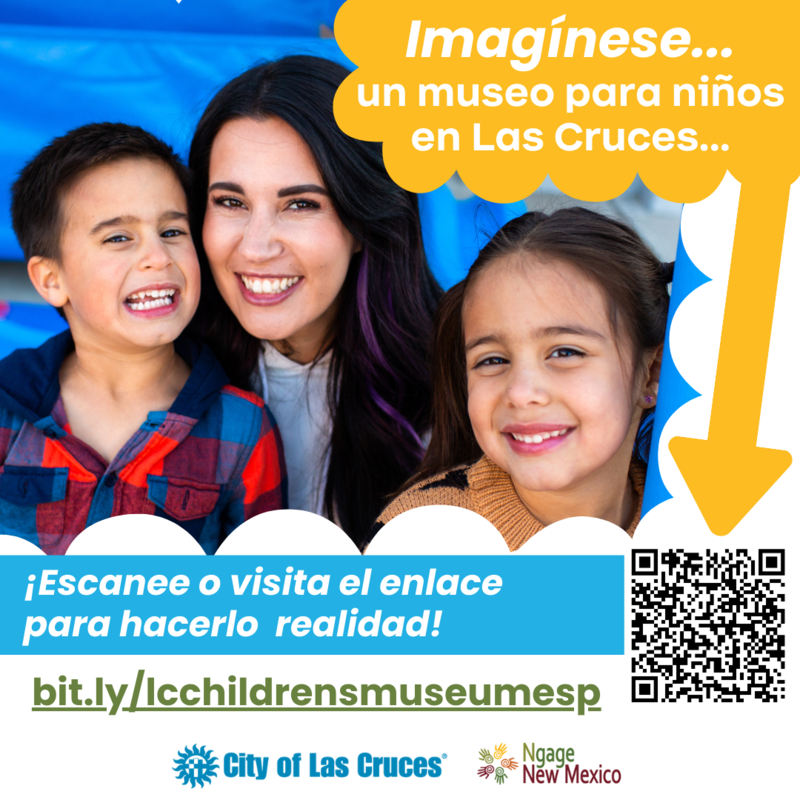 Los museos para niños son lugares para el aprendizaje práctico y el descubrimiento. Fomentan el aprendizaje y la exploración basados en el juego, fomentan la curiosidad y ayudan a desarrollar habilidades básicas y confianza.
Debido a muchas solicitudes de un museo para niños en Las Cruces, la Ciudad de Las Cruces, en asociación con Ngage New Mexico, ahora espera desarrollar un museo para niños ubicado dentro de la Ciudad.
Aún no se ha elegido ninguna ubicación y aún no se ha desarrollado ningún diseño. El proyecto se encuentra ahora en una etapa preliminar o conceptual.
Para que el proyecto avance, la ciudad ahora se está asociando con los consultores de planificación de museos con sede en Albuquerque, M. Goodwin Museum Planning, Inc. (MGMP) para desarrollar una perspectiva de qué tipo de servicios y experiencias debería ofrecer el nuevo museo, y qué comodidades se pueden incorporar dentro de la experiencia del museo.
¿Puede ayudarnos contándonos los intereses y preferencias de su familia?
Toda esta información permanecerá confidencial y se utilizará para ayudarnos a determinar el enfoque y las prioridades del futuro museo.
Tome la encuesta: https://docs.google.com/forms/...
***